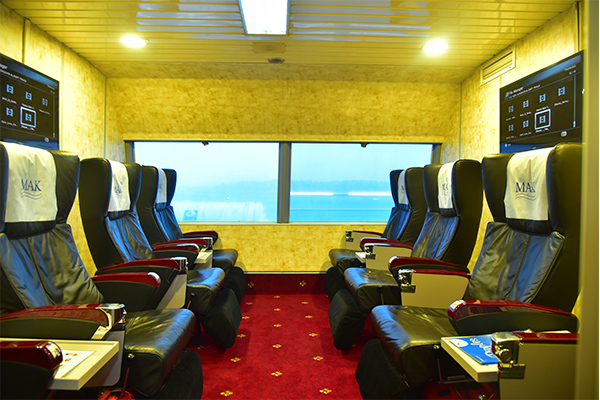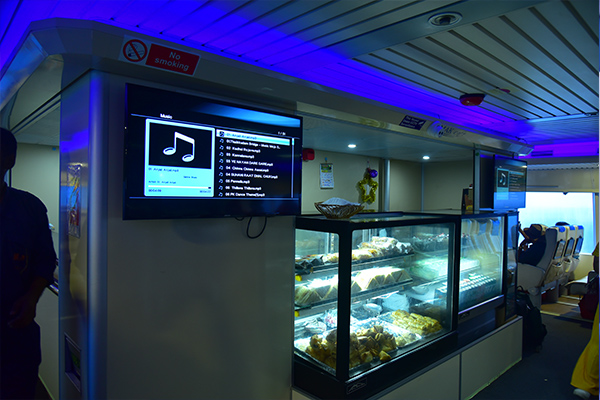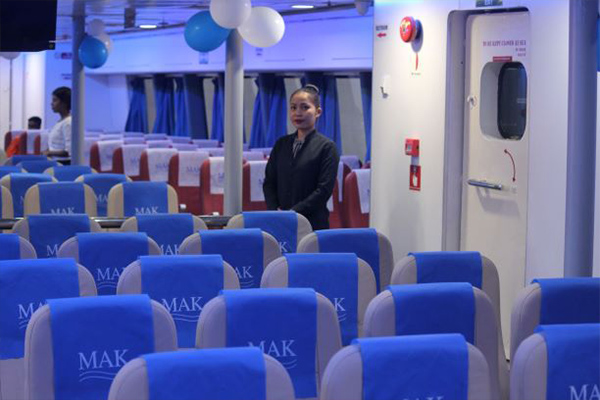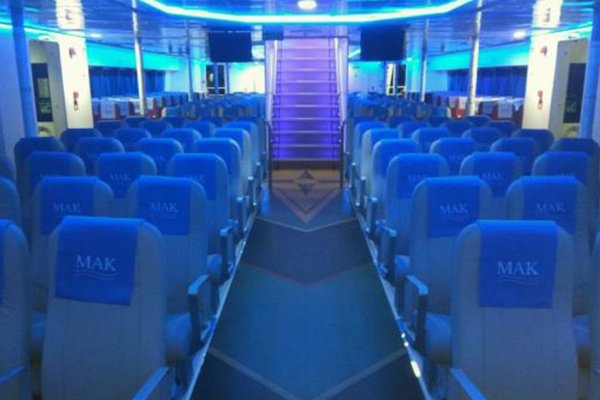 All vessels are fully air-conditioned with huge transparent dark glass windows for personalized views. In addition, all vessels are equipped with a well-stocked inboard kiosk serving delicious food.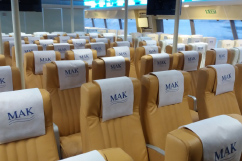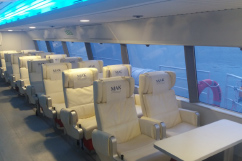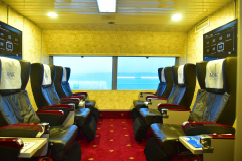 All vessels are equipped with the latest safety features such as automatic fire-detection system, bilge alarm system and remote machinery instrumentation. All the vessels meet the latest global standards of safety in terms of life-saving, fire-fighting navigational and communication systems. All the spaces on the vessel including the toilets have Smoke and heat detectors. All vessels are monitored from the Bridge through CCTV cameras.
To ensure the highest standards of passenger safety, our vessels are equipped with special reversible type lift-rafts which can be accessed by Marine Evacuation Systems. The life-jackets are provided underneath the seats and all emergency procedures are demonstrated by a safety video before departure.
All Makruzz ferries have an onboard multimedia system that is serviced by a central announcement system; several television sets installed across the decks and much more to keep the passengers entertained within the comfort of their fully air-conditioned cabins.
Special medical assistance is available on all Makruzz Catamarans for differently-abled and for elderlies. All you have to do is to inform us in advance and we'll render the required facility. Additionally, Makruzz onboard staff provides on-call medical services to ensure the maximum convenience of the passengers.
In addition to the scheduled tours, Makruzz offers personalised and customizable travel itineraries for individuals, groups and corporates, so that you can have access to exclusive yet hassle-free Andaman experience.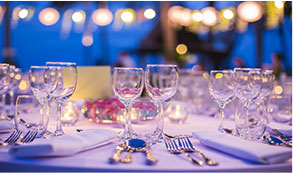 Private Events
Celebrating your private events amidst Andaman sea is now possible by booking an exclusive catamaran with us!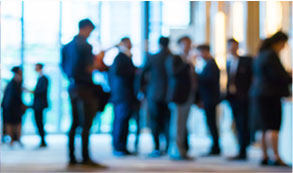 Corporate Events
All your MICE needs are end to end planned and customized by Makruzz which includes all-inclusive packages for your corporate events on the islands.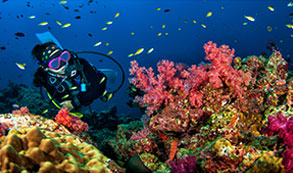 Customisable Travel Itineraries
Get exclusive itineraries tailored to fit your needs to see Andaman, your way!