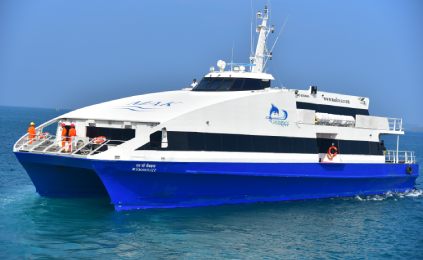 MAKRUZZ
Acquired by MAK Logistics in November 2009, M.V Makruzz was built in the state-of-the-art Damen Shipyard, Singapore, in 2002. The Catamaran is a twin-hull vessel with two fully air-conditioned decks and a passenger capacity of 280 people along with a plethora of other advantages ranging from speed, stability and space.
No of Decks - 2
Lower Deck

Premium - 208 Seats
Upper Deck

Deluxe - 64 Seats
Royal - 8 Seats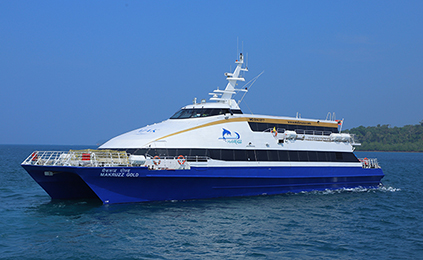 MAKRUZZ GOLD
Built in 1996 in Damen Shipyard, Singapore, M.V Makruzz Gold is the largest amongst the three catamarans. The vessel was pressed into service in the Makruzz family in May 2016 to reciprocate the success and grandeur acquired by M.V. MAKRUZZ. The catamaran is at par with global standards and has two spacious decks split with a passenger capacity of 333 and the most luxurious seating.
No of Decks - 2
Lower Deck

Premium - 262 Seats
Upper Deck

Deluxe - 63 Seats
Royal - 8 Seats
MAKRUZZ PEARL
The newest among three catamarans, M.V Makruzz Pearl was introduced to the MAK family in 2018. Built by Austal Shipyard, Australia in 1998, M.V MAKRUZZ PEARL is a twin-hull vessel that has one very spacious deck with extensive table seating and one class for passenger seating, boasting a capacity of 250 people.
No of Decks - 1
Lower Deck

Premium - 250 Seats
Upper Deck
Deluxe - 0 Seats
Royal - 0 Seats
The Engine Room is supported by an automatic fire-detection system, bilge alarm system and remote machinery instrumentation.
All the vessels meet the latest global standards of safety in terms of life-saving, fire-fighting navigational and communication systems.
Life-jackets are provided under each seat.
Special reversible type lift-rafts which can be accessed by Marine Evacuation Systems.
All emergency procedures are demonstrated by a safety video before departure.
All the spaces on the vessel including the toilets have Smoke and heat detectors.
Fire-retardant type interiors.
All vessels are monitored from the Bridge through CCTV cameras.
All Makruzz ferries have an onboard multimedia system that is serviced by a central announcement system; several television sets installed across the decks and much more to keep the passengers entertained within the comfort of their fully air-conditioned cabins.